Giving perfect beauty to interiors is our wonderful product line of Digital Tiles, Bathroom Tiles, etc.
About Us
We, Sion Ceramics Pvt. Ltd., belong to the hub of ceramic-industry- Morbi in Gujarat. Our company is in the field of manufacturing and supplying excellent quality of tiles. In and across our business location, we, as a manufacturer are known for rendering contemporary tiles to complement modern architecture. Our product portfolio that consists of Hard Matt Elevation Series Tiles, Digital Tiles, Kitchen Series Tiles, etc., is widely appreciated for matchless quality standards. We take extreme pride in serving a range that is unmatched in design and quality. Our entire range is made using premium quality base materials and is offered in vibrant patterns and vivid hues.
Our company boasts of having a big production facility that has all the machines, tools and equipment required to do manufacturing work without hassle in the best way. We indulge in a large scale production of tiles so as to meet growing requirements of customers in a brilliant manner. We swiftly complete orders so as to win lasting loyalty of customers. Quality is undeniably one of the crucial traits that customers look in a product. Knowing this well, our company implements stringent quality testing process to remove all chances of defects in the product line.
We own a staff of 80 talented people. All our staff members are experienced and dedicated to efficiently execute their specific scope of work. Our designer and craftsmen together indulge in the wonderful task of creating a stunning collection of tiles. Hard working individuals of our company give their 100% to concerned job works so as to provide superb business experience to clients.
Mission
To establish a powerful market identity by delivering superior-quality ceramic wall tiles, service and value.
Vision
To realize our potential of manufacturing quality and work extremely hard to serve our customers with nothing below the excellent quality tiles.
Why Us?
Below cited factors are reasons behind our instant liking by a lot of customers:
Affordable price structure of range
Deep understanding of customers wants
Great financial position
Fast completion of both small and bulk orders
Why Ceramic?
Ceramic as a material was first identified by potters' to make pottery in around 8000 BCE. And, the history of ceramic tiles dates back to 4000 BCE, when Egyptians used ceramics for making tiles. Through passing years, people identified the true use of ceramic tiles and found it ideal for bathrooms and kitchens. Today, ceramic tiles have evolved manifold and can be found in almost every home and office, owing to its excellent properties, like high temperature resistance, high hardness, good corrosion and chemical resistance, low cost of raw materials and fabrication, and its capacity to withstand heavy loads.
Above all, ceramic tiles are Eco-friendly as they are made from natural material and when recycled do not leave any ecological footprint.
Customers Satisfaction
We understand the truth that happy customers are our survival kit in this cut-throat market competition. Hence, we do everything possible and right to win lasting trust of clients. We plan our production nicely and pay full attention over the factors- Speed and Quality. High speed and quality inspired production allows us to make permanent space in the hearts of clients. Offered product line that consists of Kitchen Series Tiles, Digital Tiles, etc., is maintained in a huge variety at our company so as to meet several demands of customers.
Most Popular Products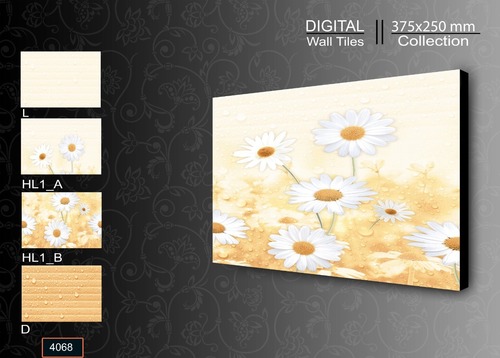 SIZE = 250 X 375 MM WEIGHT = 9 KG (APPROX) THICKNESS = 7 MM COVERAGE AREA = 0.75 SQ. METER PER BOX PACKING = 8 PIECE PER BOX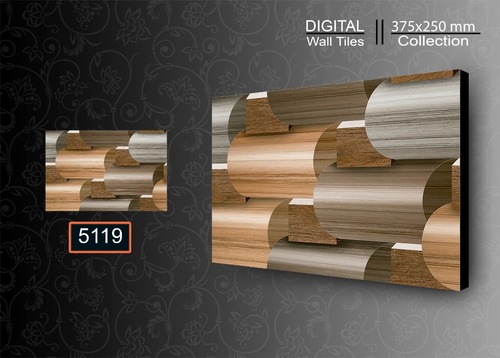 250 X 375 MM DIGITAL WALL TILES WEIGHT = 9 KG (APPROX) THICKNESS = 7 MM COVERAGE AREA = .75 SQ.METER PER BOX PACKING = 8 PIECE PER BOX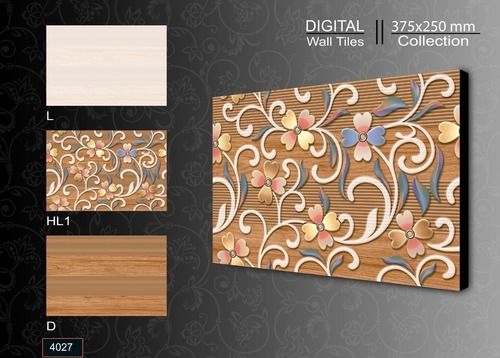 SIZE = 250 X 375 MM WEIGHT = 9 KG (APPROX) THICKNESS = 7 MM COVERAGE AREA = 0.75 SQ. METER PER BOX PACKING = 8 PIECE PER BOX